Table of Content
About GoDaddy
GoDaddy is the largest services platform for entrepreneurs around the globe. They offer tools for building professional websites and are arguably the world's most popular domain registrar and web hosting company. GoDaddy provides eCommerce solutions that allow you to sell unlimited products in your store, manage your customers, and track your revenue. They also support popular payment gateways like PayPal, Stripe, and Square. GoDaddy offers tools for SEO, Google listing, product promotion, and building subscribers list. They have real people (GoDaddy Guides) whose humanity shines through 24/7, whether they're helping you take the first step or the next step. GoDaddy is known for its two reasons - beginner-friendly nature and mobile-optimized designs.
How to Login to a GoDaddy Webmail Account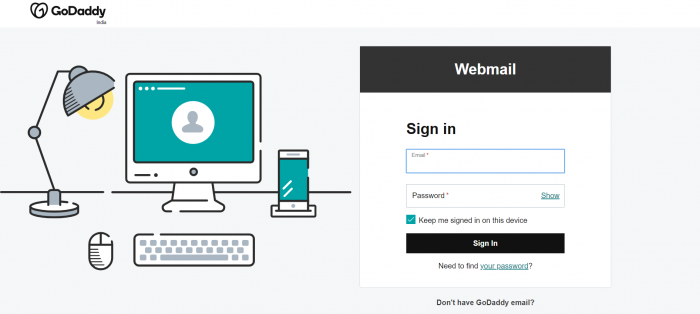 Open the official website of GoDaddy, or you can also click here: https://sso.godaddy.com/login?app=email&realm=pass.
Enter your email address that you have created for your domain.
Type in the password of your account
If you are not logging in from a personal device, uncheck the "Keep me logged in to this device" box.
Click on Sign in to access your account.
How to Login to GoDaddy 365 Email?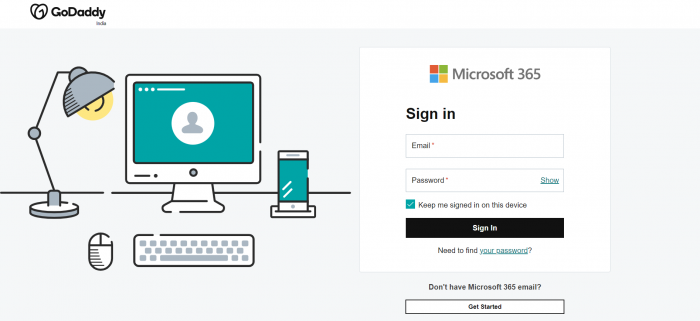 Open the official website of GoDaddy, or just click here: https://sso.godaddy.com/login?app=o365&realm=pass.
Enter your Microsoft 365 email and password.
Please take note that your GoDaddy account and password won't work here.
Forgot Your GoDaddy Login Username or Password?
Log in to your GoDaddy Email account.
To update the password for an email address, click the expand symbol next to its row.
Now select Edit to open up the Edit Account options.
In the Change Password and Confirm Password areas, type a new password right away.
Now, click on Save.
Your GoDaddy account password should be successfully changed.
Features of GoDaddy's Business Email Service for Professionals:
With GoDaddy's business email service, you can expect an inbox free of annoying ads and unwanted emails thanks to its spam filter and lack of advertisements.
A user-friendly webmail site that provides customisable widgets for news, weather, sports, and other topics makes managing your digital area simple.
You may view the contents of an email attachment without opening the application and have a consistent experience across all of your platforms, including mobile.
Create reminders, send invitations, and sync events from other calendar applications across all of your devices to keep track of your appointments and events.
The email service from GoDaddy has top-notch security features, such as spam and virus filters, which keep more than 300 million potentially harmful emails out of your inbox each day.
GoDaddy Information and Details
Website Address: https://www.godaddy.com/en-in
Contact: +1 480 366 3549
Work time: 24/7 Support
Global Support: https://www.godaddy.com/en-in/contact-us
Chat with GoDaddy: They've added a live chat service to their site, so you can get immediate answers to any queries you may have.
Frequently Asked Questions
1. How does GoDaddy help small business owners succeed?
They offer everything you need to create an effective, memorable online presence. Already have a site? They offer hosting plans that will keep it fast, secure and online.
2. Why choose GoDaddy for WordPress?
GoDaddy offers reliable and affordable WordPress hosting plans, one-click installs and the latest version so you have the most recent features available for your site.
3. Why do I need a website for my business?
Because the web is the first place people go when looking for a product or service.