Table of Content
As you know, the right software system can make all the difference in managing your business efficiently. From tracking orders and inventory to scheduling installations and managing finances, a good software system can streamline your operations and improve overall productivity. But it might be challenging to pick the finest option when there are so many available. So let's take a look at some important points!
ORGANIZE SOFTWARE SEARCH
Begin by identifying what areas of your glass company require improvement and could benefit from a new software solution. This will assist limiting your selections.
There should be a timeline for researching different software systems. Make sure to allocate enough time to evaluate each option thoroughly without rushing into a decision.
Designate specific team members who will be responsible for conducting research and testing out different solutions. It is made sure that everyone is involved in making decisions.
Keep detailed notes throughout the entire process so that you can refer back to them later during evaluation and comparison stages.
KNOW WHAT YOUR GOALS ARE
It is important to know what your objectives are. Without clear objectives in mind, it can be difficult to evaluate whether a particular solution will meet your needs.
Once you have a clear idea of what problems you want to solve, think about how a new software system could help.
It's also important to consider any future growth plans for your business. Make sure the solutions on your shortlist have scalability options.
Knowing your objectives upfront can streamline the decision-making process and ensure that you select a software system that meets both current and future needs.
MAKE A LIST OF SOFTWARE SUPPLIERS
After you have prioritized your software needs, it's time to create a software vendor short list. Here we will give you a list of the best software vendors!
TOP FEATURES YOU NEED IN A SOFTWARE FOR GLASS BUSINESS
Glass Estimates, Glass Quotes and Invoicing, Design Tools, Mobile App, Inventory Management, Job Management, Chat and Quick messanger.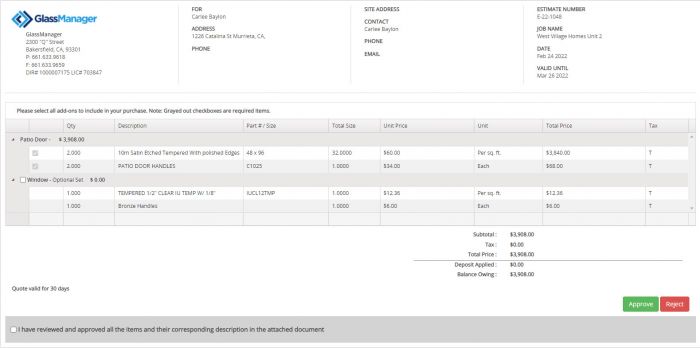 GlassManager
A glass software designed specifically for commercial and residential glass shops is GlassManager. This software offers a centralized platform for glaziers to manage projects and coordinate activities with clients, field staff, and suppliers. With GlassManager, businesses can reduce business costs, work faster, improve cash flow, and increase productivity. They simplify work by minimizing the use of paper, spreadsheets, and double entry of information, consolidating everything from quotes to timesheets in one place. They enable businesses to deliver accurate estimates quickly and secure online approvals from customers, ensuring that jobs stay within budget and on schedule, ultimately increasing customer satisfaction.
Features
Estimates & Quotes
Scheduling
Job Management
Mobile App
Reports & Dashboard
Invoicing & Payments
Accounting Integration
Payment Processor
Vendor & Purchase Order
AIA Style Billing
Inventory Management
Materials Management
Customer Management
SMS Messaging
Drawing Tool
GlassManager Pricing
$85 FULL USER / MONTH (*Minimum 3 Users)
$10 / Field user / month
Setup fee starting at $495 (5 GB doc storage)
Call at +1-403-770-3089
NetSuite ERP
NetSuite ERP is a cloud-based business management solution designed to help organizations streamline their operations and improve efficiency.
They have applications that cover various aspects of business management, including accounting, order processing, inventory management and more. By automating core processes, NetSuite ERP enables companies to operate more effectively and save time and resources.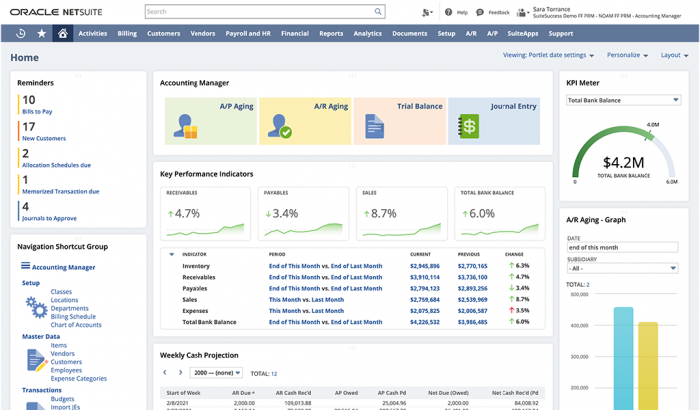 Features
Accounting Software
Financial Management
Global Business Management
Inventory Management
Order Management
Supply Chain Management
Warehouse Management
Procurement
NetSuite Pricing
NetSuite does not publish subscription costs on its website. Those interested in the software will need to schedule a consultation for pricing.
Call at +1-877-638-7848
SAP Business One
SAP Business One is a business management solution that offers tools for streamlined financial operations, including accounting, controlling, fixed asset management, banking and reconciliation.
It provides the ability to automate key accounting processes such as journal entries, accounts receivable, and accounts payable, reducing errors and improving efficiency.
Real-time data can be used to create standard or customized financial reports, improving business planning and audit review processes.
Features
Financial Management
Sales and Customer Management
Purchasing and Inventory Control
Business Intelligence
Analytics and Reporting
SAP Business One Pricing
Pricing on SAP Business One depends on a number of factors.Those interested in the software will need to schedule a consultation for pricing.
Call at +1-800-872-1727
Odoo
Odoo is a business management solution that offers a wide range of apps to address various business needs.
Boost your sales with apps such as CRM, POS, and Sales, allowing you to manage customer relationships, streamline point of sale operations, and drive sales. Build stunning websites with the Website Builder and eCommerce apps, allowing you to create and manage professional websites and online stores.
Manage your finances effectively with apps for Invoicing and Accounting, simplifying billing processes and providing financial management capabilities.
Odoo Pricing
$46.70/user/month (annual billing)
$58.40/user/month (monthly billing)
Call at +1 650 691 3277
SYSPRO
SYSPRO ERP is a manufacturing software that enables businesses to embrace Industry 4.0 and leverage connected networks for their manufacturing operations.
The software provides a comprehensive view of all critical business areas, including financial management, warehouse operations, and inventory management. SYSPRO focuses on innovation based on market needs, ensuring that businesses have access to the latest functionalities that drive success.
The ERP software helps businesses manage their data effectively and make informed decisions, promoting faster time-to-value and overall business success.
Features
Accounting and financial management
Inventory management
Order management
Planning and scheduling
Supply chain management
Warehouse management
Production management
Syspro Pricing
Those interested in the Syspro software will need to schedule a consultation for pricing.
Call at +(65) 6407 6052
These are some of the best options available in the market. You can choose the Right Software System for Your Glass Company from this short list.
VALIDATE YOUR SHORT LIST
Now you need to verify the credibility of each vendor on your list before deciding which one to choose.
Checking their reputation online.
Analyze customer reviews, feedback, and testimonials.
Contacting each vendor directly.
Enquire about their product's features, capabilities, pricing, and support options.
You should also ask for references from other glass companies who have used their services before.
By validating your shortlist, you'll be able to identify which vendors are most trustworthy and capable of providing reliable software solutions tailored specifically for glass companies like yours.
MAKE THE DECISION AND NEGOTIATE
Now it's time to make a decision and negotiate with the vendor.
Before making a final decision, ensure that the chosen software system aligns with your company's objectives and needs.
When negotiating with vendors, be upfront about your budget constraints and ask for any available discounts or payment plans.
Before signing anything, it is crucial to carefully read the contract.
After going through the process of how to choose the right software system for your glass company, it's important to remember that this is not a one-time decision.
Investing in the right software can help streamline processes and increase productivity within your glass company.
Take some time to carefully consider what features are essential for you and don't be afraid to ask questions or request demos from potential vendors.