Table of Content
GlamyoHealth.in Reviews:
A Scam Company, Taking Money and Leaving Patients in Pain
GlamyoHealth.in has proven to be nothing short of a nightmare in my pursuit of dental treatment. With a promise of quality care and dental solutions, this company has revealed itself to be a scam that preys on the vulnerability of those seeking genuine treatment, I have been a victim of it and hope to save others hard earned money via writing this blog.
My ordeal began when I made the unfortunate decision to proceed with their dental treatment and handed over my hard-earned money. From that moment on, it was like falling into a black hole of empty promises and unfulfilled commitments. Not only did GlamyoHealth.in fail to complete my treatment, but they also vanished into thin air, leaving me in a state of agony and disbelief. They blocked my phone number, my emails and stopped responding to me. All the their team members whom I know said that "they have left the company and not to be reached again"
Please find below my payment receipt and communication with their team:
Communication with this company has been a non-existent nightmare. My emails and calls have gone unanswered, and it seems that their customer service is nothing more than a façade designed to lure unsuspecting victims. It's clear that their primary objective is to take payments without delivering on their promises, leaving patients like me in a state of despair.
Honestly speaking, the impact of their fraudulent practices extends far beyond financial loss. The physical and emotional pain I've endured due to their negligence is immeasurable. It's a travesty that a company can exploit people's health concerns for their own gain without a shred of remorse.
Gyamyo Dental actions are a disgrace to the healthcare industry. Their website might showcase a veneer of professionalism, but their true nature as a scam company is unmistakable. I can't help but feel a sense of responsibility to warn others against falling into the same trap I did. I implore anyone reading this review to think twice before engaging with GlamyoHealth in any sort of treatment.
Unfortunately, I don't know where there is office, as some fraud doctor visited my house for scanning to lure the money. Actually never thought that a doctor can do this.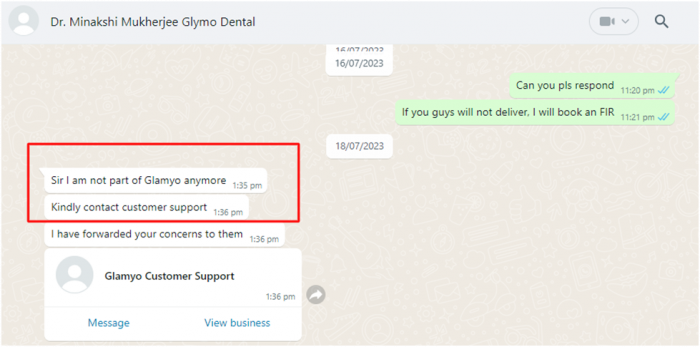 Now, none of these numbers exists for entertain any phone call or messages: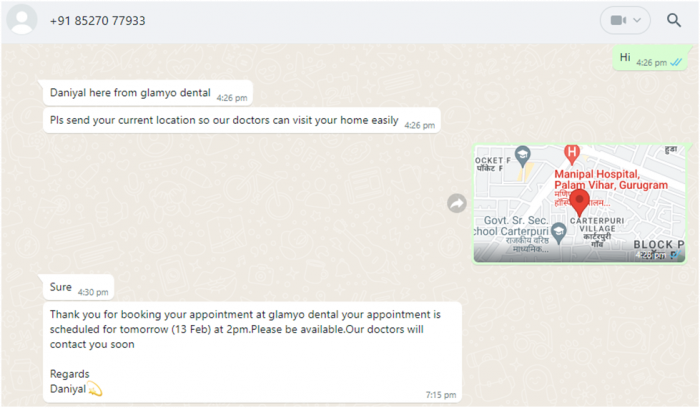 GlamyoHealth.in is a fraudulent company that preys on individuals seeking genuine healthcare solutions. Their website may promise a lot, but there are complete fraud and deliver NO SERVICES TO ANYONE. Avoid them at all costs, and spare yourself the pain and heartache that comes with being a victim of their deceitful practices.
Glamyo Dental cost:
They will offer you a very competitive price, I personally lost 28000, but I just hope that no one else lose any money in future to them.
If you are also the victim by Glamyo Dental, please feel free to contact me at 9811047889, lets come together and file a strong case against them so that they can learn and lesson and don't dare to do this to anyone else in future.
I have made up my mind that I won't leave these guys like this, I will ensure to drag them in court. Already filed a police complaint against the owners and whosoever is operating this fraudulent company.
Please do write your comments below, and feel free to reach me, let's work together to bring back our hard earned money and bring them to justice.