Table of Content
Business software is a web application that helps you run your business. It can track your employees, manage your jobs and inventory and manage your finances. There are many different types of business software available, so it's important to choose the right one for your needs. In 2023, IT spending on business software is expected to amount to around 755 billion U.S. dollars worldwide.
Glass Company Software
Glass company software is designed to help glass companies manage their operations more effectively. The software can automate various tasks such as quotes, invoicing, scheduling and customer management. Glass software can provide valuable insights into the performance of the company and its employees. A survey reveals that 72% of Glass companies are totally or somewhat satisfied with top glass software available in the market. They don't want to go for any custom software for their business (source: statista.com).
Features Of Glass Company Software
There are many features of glass company software that can help your business run more efficiently. Some of the most popular features include:
Job Scheduling: Schedule jobs and appointments easily and keeps track of all the details in one place.
Estimating: It helps in fast & flexible glass estimating. Precise glass estimates and expert quotes.
Inventory Management: Keep track of your inventory levels and stock, so you never run out of materials.
Customer Management: Stay organized and keep track of your customers' contact information, job history, and payments.
Accounting Integration: Integrate your business software with your accounting software(QuickBooks).
5 Best Glass Company Software
There are many glass company software options on the market, but not all of them are created equal. To help you find the best glass company software for your business, we've compiled a list of the five best options available.
1. GlassManager: GlassManager is a powerful and easy to use glass business software. It is designed for glaziers and has all the features you need to run a glass company in a simple and efficient way. GlassManager was founded in 2017 with the goal of providing small and medium size companies with the tools they need to succeed. They are proud to offer their customers a 100% satisfaction guarantee. It is a complete solution for glass companies that increases productivity and reduces expenses. GlassManager is one of the best glass software products in the industry.
GlassManager Reviews
By Steven Harper - Marketing Assistant
"I work for a commercial glass manufacturer and we have found that GlassManager is one of the easiest programs to use. It has helped us keep our inventory in check, and it has made scheduling much easier. I recommend this software to any company who is looking for an efficient way to manage their glass company."
By Samuel Martin - Strategic Business Partner
"GlassManager has made my life so much easier. Before GlassManager I had to individually input all of the same information for 30 different jobs into 30 different programs and then I would have to manually organize them in Trello. Now it's just one click and it's done!"
By Reginald Weeks - Director of Marketing Services
"I am a small glass business owner, and I have been very pleased with the customer service and support GlassManager has given me. My business has been able to save time as well as money because of the software."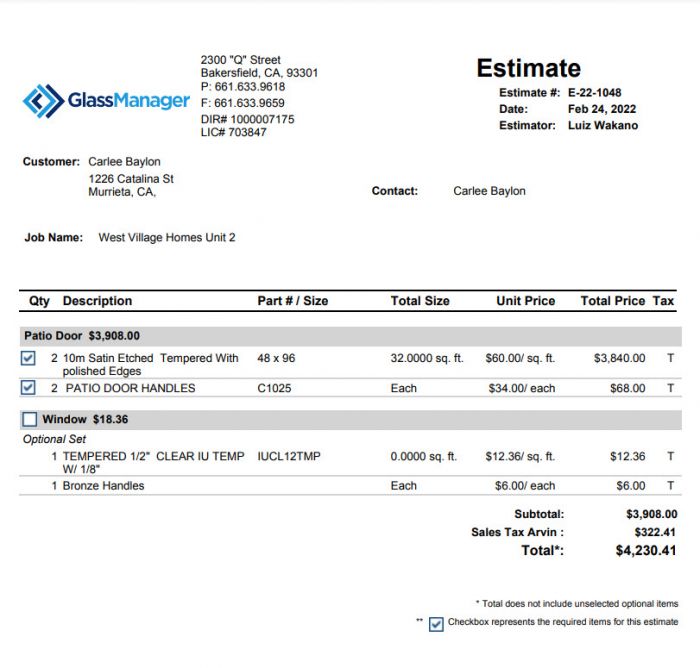 By Rayon Beckford - Project Manager
"GlassManager has been great. They have made the process easy and have been very responsive to any questions or changes we've needed to make. The invoice and payment features work just as I envisioned them."
By Carol Roper - Marketing Head
"I wanted to say how much this software has helped me. I was running a glass company and it was really difficult and time consuming. Now that I use this software, it is so much easier."
By Yolanda Cerda - Co-Founder
"I've used GlassManager for about a year now and I've been able to save thousands of dollars. Especially since it allows me to manage my staff and their work load. I have a small team of glass installers and this mobile app has really helped us stay connected on the go."
2. Smart-Builder: Smart-Builder is the leading provider of software solutions for the glazing industry. They have been in business for over 10 years and their products are used by many glazing companies in US. Their mission is to make glass software easy. They do this by providing solutions that are designed specifically for the glazing industry. Their products are used by glaziers, architects, engineers, and contractors to increase efficiency and productivity.
Smart-Builder Reviews
By Amanda Benjamin - Marketing Operations Manager
"Smart-Builder has been a real lifesaver for my company, and I wish we had found it sooner. It is so easy to figure out, and the glass design program is user-friendly and easy to customize. The best part of all is that the prices are so reasonable."
By Rachel Steele - Internal Usability Developer
"We are so pleased with the Smart-Builder software, it is easy to use and gives us so many wonderful options to choose from. There are plenty of design templates that we can choose from then tailor to our needs. The prices are very competitive and they have a vast array of glass types and colors."
By Sonya Wilson - Corporate Metrics Analyst
"As a builder, I have been in the industry for 24 years and it often feels like I am drowning in paperwork. That is why I was ecstatic when I found Smart-Builder because it has saved me so much time. It will automatically calculate my profit margins and has been great with customer follow up."
3. SkyBoss: SkyBoss was founded in 2006 with the mission of providing service businesses with the most complete software solution available. They provide their customers with a all-in-one software solution that helps them manage their glass business more efficiently and effectively. SkyBoss has been recognized as the leading service business software solution by industry experts such as Capterra, G2 Crowd, and PCMag.
SkyBoss Reviews
By Robert Martinez - Future Impact Consultant
"SkyBoss has been a great investment for our company. With SkyBoss we are able to save money on labor and be more proactive in the industry."
By Michelle Woodard - Director of Brand
"I am a widow who decided to take over the family business after my husband passed away. I was never involved in this type of work before and was feeling really stressed about it. With a few simple clicks, SkyBoss taught me how to run our glass business and make it grow."
By Anita White - Chief Program Developer
"I have been in the glass industry for over twenty years, and I was introduced to SkyBoss by a friend. It has improved our efficiency and helped us cut down on costs. If you want your business to be successful, then you should try SkyBoss!"
4. DataNote: DataNote is the most exhaustive endeavor arrangement intended to convey the normal outcomes without sharing private information or rationale to the seller. The stage incorporates a propelled investigation motor that produces exact, nitty gritty and effortlessly comprehended reports. It was set up in 2014 by a gathering of information researchers and business people who needed to make an answer for the issue of how organizations were not getting the full advantages of their information.
DataNote Reviews
By Joshua Montgomery - Digital Marketing Manager
"Thanks to DataNote, we were able to stay focused on our core competencies without worrying about system management or software upgrades."
By Jessica Miles - Director of Communications
"DataNote is a very intuitive and powerful open source business solution. The company has saved us a lot of time in management and documentation, it has been really easy to learn, and we are really excited about the new features that will be coming out soon."
By Rachel Gray - Principal Quality Executive
"DataNote is a lifesaver. I was in need of a business solution and DataNote was the perfect match. It's easy to use, it has all of the features I needed and best of all it was created with OpenLogic Framework technology."
5. Glass fabrication software: Glass fabrication software was created to manage glass fabrication businesses from online orders to glass and sealed unit production to fulfillment. The software is designed to help businesses streamline their operations, improve efficiencies, and optimize their workflow.
Glass fabrication software Reviews
By Katie Calhoun - Corporate Program Representative
"We really had a need for a new glass fabrication software for our studio. We looked around and tried different ones and finally found one that met all of our needs. It is easy to use, has a competitive price, and it's being constantly updated."
By Cassidy Mclaughlin - Digital Advertising Manager
"I have been using this software for about six months now, and I can't tell you how much time and money it has saved me. It has allowed me to be more productive with my time and business. Thank you for saving me so much hassle."
By Amber Liu - International Branding Designer
"I can't believe how easy it is to use. After fifteen minutes of fiddling around, I knew how to do everything. It's great for businesses that don't want to spend a lot on software when there are so many expensive comps out there."
Advantages of Glass Company Software
This not only saves time, but also allows for greater efficiency and accuracy in ordering and tracking inventory.
It can help you keep track of information about your customers and clients, your sales and marketing, your finances and other important information.
Glass software can also automate most of the tasks that you would otherwise have to do manually, freeing up your time to focus on other aspects of running your business.
Improve communication and collaboration within your team.
The market for business intelligence and analytics software is expected to reach $17.6 billion by 2024.
Disadvantages Of Glass Company Software
There are a few disadvantages of glass company software to be aware of before making a decision.
It's important to know that not all glass company software is created equal. Some programs may be better than others at handling specific tasks, so it's important to do your research and find the right one for your needs. You may need a custom software for your business.
It can be expensive, when you have a very small team. Many programs require an upfront investment, as well as monthly or annual subscription fees. This can add up, so be sure to factor in the cost when deciding if glass company software is right for you.
Sometime, business software is not always easy to use. Many programs are designed for experienced users, which can make them difficult for beginners to learn. If you are not comfortable with technology or don't have time to learn a new program, glass software may not be the best solution for you.
Who Uses Glass Company Software?
There are many types of businesses that can benefit from using glass software. This type of software is designed to help businesses manage their inventory, customers, and orders. It can also help businesses keep track of their finances and performance.
Some of the most common users of glass company software include:
Small and medium size glass companies
Auto glass repair shops
Glaziers
Commercial and Residential Glass Shops