What is Geographic Information Systems software?
This software is also known as GIS software is a type of mapping software that helps users create and manage maps. GIS software can be used to track and analyze data as well as to create visualizations of that data.
There are a variety of different GIS software programs available on the market, each with its own unique set of features and capabilities. Some of the most popular GIS software programs include ArcGIS, QGIS and MapInfo.
GIS software is an essential tool for anyone who needs to work with geographical data whether you're a government planner or a business owner or a scientist GIS software can help you make better decisions by giving you a better understanding of the world around you.
What are the types of Geographic Information Systems software?
1. To produce, modify, and analyse geographic data on a user's own computer, desktop GIS software is used.
This kind of software often offers a substantial number of features and functionalities and can be applied to a wide range of tasks, including map creation, geographical analysis, and geographic data management.
2. Web-based software can be accessed by users via a web browser and is housed on a distant server.
Organizations that need to communicate geographic data with a large user base frequently utilise this kind of software.
Operating on portable electronics like smartphones and tablets is mobile GIS software.
This kind of software is intended for usage in the field and often has less capabilities than desktop counterparts.
3. Big businesses with intricate geospatial data requirements generally employ enterprise software.
Users from throughout an organization can access this kind of software, which is often deployed on a central server.
Enterprise software frequently has robust geographic data management and analysis tools.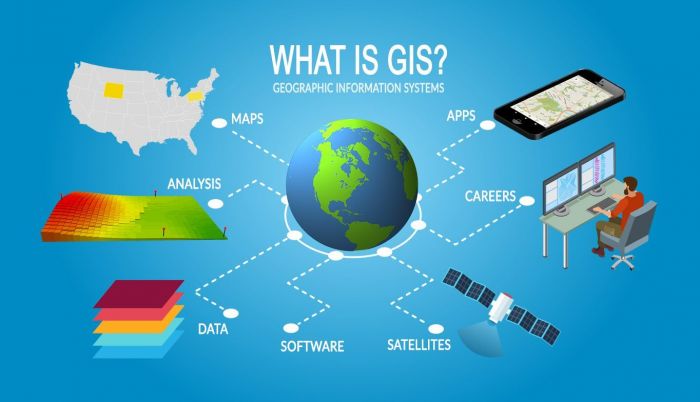 What are the benefits of GIS software?
1. Increased accuracy and efficiency: This software can help organizations to achieve increased accuracy and efficiency in their workflows by automating tasks and providing tools for analyzing and visualizing data. GIS software can help users to make better decisions and improve the efficiency of their operations.
2. Improved decision making: This software provides tools for analyzing data that can help users to make better decisions. By visualizing data in new ways GIS software can help users to identify patterns and relationships that they might not otherwise be able to see. This can lead to improved decision making about where to allocate resources, how to respond to emergencies and more.
3. Better understanding of complex systems: It can help users to understand complex systems by visualizing data in new ways by representing data in map form for example It can help users to see relationships between different variables that they might not otherwise be able to discern. This can lead to a better understanding of how these systems work and how they might be affected by changes.
4. Greater collaboration: GIS software provides tools that facilitate collaboration between different users. By sharing data and maps It can help team members to communicate more effectively and work together more efficiently which will result in improved outcomes on projects where teamwork is essential.
5. Access to new sources of data: This software provides access to new sources of data that can be used in analysis and decision making.
Who uses Geographic Information Systems software?
GIS software is used in the following industries:
Transportation - Route planning, asset tracking, and traffic pattern analysis are all done using it by transportation planners.
Utilities - Utilities utilise software to manage their infrastructure, including gas pipelines, power plants, and water and sewage systems.
Telecommunications - To plan their networks and monitor consumer usage, telecom companies employ GIS software.
Retail - Retailers use this software to research customer habits and find new storefronts.
Government- This software is used by local, state, and federal government organizations for a range of purposes, including emergency response, resource management, and planning infrastructure projects.
List of Top 7 GIS Software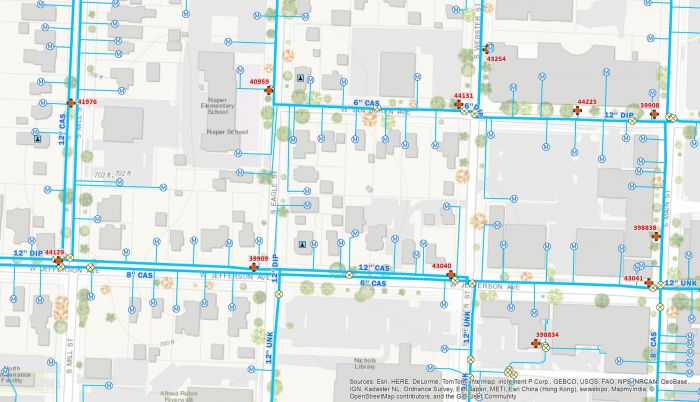 1. ArcGIS Pro
There is a reason that ArcGIS Pro is at the top of this list: it is simply the best geographic information systems software on the market. If you need to perform any kind of analysis or visualization with geographical data then ArcGIS Pro is the tool for you. It has an incredibly powerful set of features, yet is still easy to use thanks to its intuitive interface. Plus it integrates seamlessly with other Esri products making it the perfect choice for anyone who needs GIS software that just works.
ArcGIS Pricing Overview:
Viewer $100 On Premise per year
ArcGIS for Personal Use $100 On Premise per year
Editor $200 On Premise per year
2. Maply
Maply is a easy-to-use GIS software that makes it easy to visualize, analyze and share your data. Maply includes all of the tools you need to create beautiful maps and perform sophisticated analyses.
Whether you're a GIS novice or a seasoned pro Maply has the features and functionality you need to get the job done. With It you can easily import data from spreadsheets or other sources, create custom map layers, perform complex analyses and share your results with others. It is the perfect tool for anyone who needs to work with geographic data. If you're a student, researcher, or professional who needs to visualize and analyze data on a map.
Starting price:
Pricing for Maply starts at $10/month.
Free trial Available
3. AutoCAD Map 3D
Users may make, update, and examine maps of any location in the world with the robust mapping tool AutoCAD Map 3D.
AutoCAD Map 3D makes it simple to produce precise and detailed maps thanks to its user-friendly interface and many capabilities.
AutoCAD Map 3D has a number of important functions including:
-Maps of any site in the world can be made and edited.
-An intuitive interface that makes it simple to construct thorough maps
-Numerous features that let people alter their maps
AutoCAD Map 3D is the ideal tool for anyone who wants to produce precise and detailed maps because to its strong mapping capabilities, user-friendly interface, and 3D capabilities.
AutoCAD Map 3D Pricing:
Autocad: 200/mth or 1,288/yr or 3,258.75/3 yrs
AEC: 355/mth or 2,8255/yr or 7,630/3 yrs
Prod Design & Manufacturing: 325/mth
4. MapInfo Professional
MapInfo Professional from Pitney Bowes is another comprehensive GIS software suite with a wide range of features for managing and analyzing spatial data. It also includes tools for creating beautiful maps and visualizations. MapInfo Professional has been on the market for many years and has a large user base, making it easy to find support and additional resources.
MapInfo Pro is available from RockWare for customers in the US and Canada only, Pricing:
MapInfo Pro Single 1-Year Term at $970.00
MapInfo Pro Single 3-Year Term at $2,175.00
MapInfo Pro Single Premium 1-Year Term at $1,570.00
5. GPS-Server
GPS-Server is a reliable and easy-to-use platform that enables you to create, manage and share your geographic information with others. With GPS-Server, you can create maps and visualizations that are tailored to your specific needs, making it easy to communicate your ideas clearly and effectively. GPS-Server also provides powerful tools for analyzing your data, so you can gain insights into patterns and trends that would be difficult to discern otherwise.
- GPS Tracking Account
Recommended for personal GPS tracking needs, Starting at € 10 /year
- GPS Tracking Serve
Recommended for larger fleets and companies Starting at € 80 /month
6. MaintainX
MaintainX is a tool that helps organizations to store, manage and analyze their data. It offers a variety of features that make it an ideal solution for managing geographical data. MaintainX can help organizations to better understand and manage their geographical data. These features include:
-A user-friendly interface that makes it easy to navigate and use
-The ability to store and manage large amounts of data
-A variety of analytical tools that can be used to gain insights into the data
-The ability to share data with other users and collaborate on projects
MaintainX Pricing:
Free
Essential: $16/user/month
Premium: $41/user/month
Enterprise: Contact MaintainX
7. MapViewer
MapViewer is a yet easy-to-use GIS software program that is well suited for a wide range of applications. MapViewer offers a number of features that make it an excellent choice for GIS software, including:
-A comprehensive set of tools for manipulating and analyzing geographic data
-An intuitive user interface that makes it easy to get started with using the software
-The ability to integrate with a variety of other software programs such as CAD and statistical analysis programs
-A wide range of data import and export options, making it easy to share data with others
MapViewer Pricing Plans:
Free Trial Available
MapViewer at $459/user