Table of Content
Baadshah Broking Trust Score: 10 Out of 100.
Please contact their support before buying anything.
Baadshah Broking is a stock brokerage platform, they make Facebook and Instagram reels and tell people to sign up on their platform. They charge 99 INR fee while signup. Once you signup, you cannot see anything until you buy more packages. Here people have problem. In 99 INR, people get nothing.
We have checked their Google review, they have 3.4 Google rating out of 164 reviews on 23 june 2023.
Why you cannot Trust Baadshah Broking
1. Checkout their office address in Google places. In below image, you may see their location.
2. In Instagram and Facebook videos, they don't give comment option.
3. Read their Google reviews.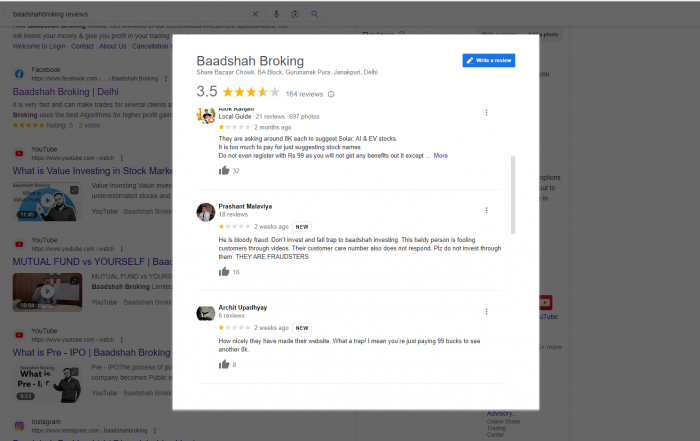 4. Baadshah Broking Glassdoor's reviews, they have 3.5 star rating.
5. They don't reply to their support email ([email protected]) or phone call +91 7982945396.
6. Phone number mentioned under their refund policy does not exist.
7. If you go to their website home page or dashboard, under section "Our Latest Transaction", last transaction on 5 October 2021 and amount is ₹ 7,00,00,000. It is not looking real.
8. They have hidden their whois information, so no one can contact them or get details.
9. Their address does not exist, they have given a generic address: Share Bazaar Chowk, BA Block, Gurunanak Pura, Janakpuri, Delhi, 110058
Is Badshah broking real or fake?
Fake, by looking at their Google and Glassdoor's reviews, Baadshah Broking does not look like a genuine website.