Table of Content
Virtual meetings, video calls and chats are essential for all remote teams. In the past few years, there have been a number of new software options to make these tasks easier than ever before. Check out this list of five virtual meeting software for remote teams to find out which one is best for you.
What are Virtual Meeting Software?
In order to have an effective meeting whether in person or virtually there are a few key ingredients: good communication, clear objectives and engagement from all participants. But what happens when you can't meet in person? That's where virtual meeting platforms comes in. Virtual meeting software is a tool that allows people to communicate and collaborate remotely. This type of software is essential for remote teams as it helps to bridge the gap between team members who are not in the same physical location. In 2021, the global market for virtual meeting software was valued at $11.9 billion. As per straitsresearch, it is expected to reach USD 78.62 billion by 2030, expanding at a CAGR of 26.5% during the period of forecast (2022–2030).
Virtual Meeting Platform Features
When you are looking for the best virtual meeting software for your remote team there are a few key features to keep in mind.
A platform that is easy to use and navigate. The last thing you want is for your team members to be struggling to figure out how to use the software during a meeting. Look for a platform with a user-friendly interface that everyone will be able to understand.
Ability to share screens and presentations easily. This will come in handy when you need to give a presentation or demo during your meeting. Make sure the software you choose allows for screen sharing and has an intuitive presentation mode.
Pay attention to the audio and video quality of the platform you're considering. With remote meetings, it's important to be able to see and hear each other clearly. Look for a platform with high-quality audio and video streaming capabilities so that your team can communicate effectively no matter where they are located.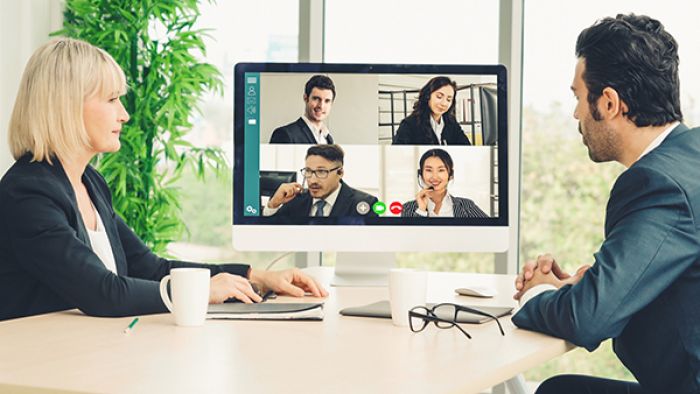 What are the advantages of Virtual Meetings?
Cost-effective: Cost-effective option than in-person meetings since you eliminate the need for travel and lodging expenses.
Time-saving: Save you time by eliminating the need to commute to and from a meeting location.
Flexible: It can be scheduled around your busy schedule.
Green: A green option, since they eliminate the need for travel, which can be harmful to the environment.
List of Top Virtual Meeting Software
1. Zoom
Zoom is a virtual meeting software that enables remote teams to hold face-to-face meetings. It offers high-definition video and audio, screen sharing and annotation features. Zoom also has a mobile app that allows users to join or host meetings on the go.
Pricing:
Free plan that includes unlimited one-on-one meetings and group meetings of up to 40 minutes.
Paid plans start at $14.99/month/user and include features such as unlimited meeting duration, larger meeting capacity, cloud storage and recording.
Features:
High-definition video and audio
Screen sharing
Annotation features
Mobile app
2. Google Meet
Google Meet is one of the most popular virtual meeting software solutions on the market, because of its many useful features:
Easy navigation and operation, a wide range of configuration choices for fine-tuning your meeting experience.
Meetings may be easily scheduled and attended thanks to Google Hangouts' seamless integration with Calendar and Drive.
3. Cisco Webex
Cisco Webex is an excellent choice for virtual conferences. It offers a comprehensive set of features for online meetings, webinars and video conferencing. Cisco Webex also integrates with many other business applications, making it a versatile solution for businesses of all sizes.
Some of the key features of Cisco Webex include:
High-definition audio and video for crystal clear communication
Screen sharing and annotation tools for presentations and collaboration
Integrated chat and messaging for real-time collaboration
Whiteboarding tools for creative brainstorming
Recording and playback features for review or reference
Cisco Webex is available in both free and paid versions. The free version offers basic features for individual users, while paid plans offer additional features such as group video calling, unlimited recording and toll-free calling. Paid plans start at $13 per month per user.
4. Jami
Jami is a virtual meeting software that allows users to hold HD audio and video meetings with up to 8 participants. Jami is available for free for personal use and paid plans start at $5/month/user for business use.
Some features of Jami include:
HD audio and video quality
Screen sharing
Unlimited meetings (no time limit)
Meeting recording
Integrations with Google Calendar, Outlook and more
Available on Windows, Mac, Linux, iOS and Android
Paid plans also include:
Unlimited number of participants
Additional security features (encrypted meetings, password protection, etc.)
Priority customer support
5. Skype
Skype is a virtual meeting apps that enables remote teams to communicate and collaborate via video conferencing, audio calling and instant messaging. With Skype, you can easily connect with team members from around the globe in real-time.
Some of the features that make Skype an excellent virtual meeting software include:
High-quality video and audio streaming for crystal clear communication
Screen sharing capabilities for presentations and demonstrations
The ability to record meetings for future reference or playback
A user-friendly interface that is easy to navigate and use
In terms of pricing, Skype offers a few different subscription plans to choose from. The Basic plan is free and includes the core features mentioned above. The Business plan starts at $5 per month per user and includes additional features like group video calling and call forwarding. Finally, the Enterprise plan starts at $12.50 per month per user and includes even more features like live customer support and advanced security options.