Table of Content
What is an Employee Management Software?
A Workforce Management Software is a tool used by businesses to track and manage employee data. This type of software typically includes features for tracking employee time and attendance, leave balances, payroll, and performance. Human Resources (HR) Software can help businesses to improve communication and collaboration among employees, as well as increase operational efficiency.
Features to look for in employee management software
key features to look for Workforce Management Software are below.
1. The first is a robust set of tools for tracking employee time and attendance and this software should also include tools for managing employee scheduling, leave requests and vacation time.
2. Another important feature to look for is performance management capabilities good software should allow managers to set goals and track progress towards those goals.
3. The software should provide a way to measure and report on employee productivity and should offer a way to manage employee benefits and payroll information.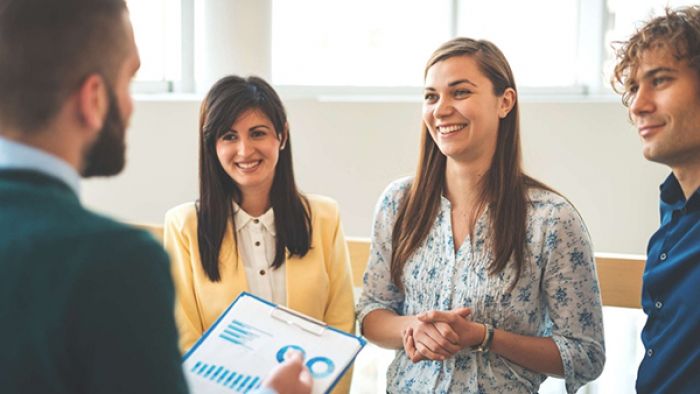 10 Best Employee Management Software Solutions
1. Workday - Workday employee management software is a cloud-based solution that helps businesses manage their employee data. It offers a central repository for employee information which can be accessed by managers and employees alike. The software also includes tools for managing payroll, benefits and time off.
Workday Pricing:
Workday does not present any pricing information on its website and prefers to deal with the involved companies directly.
However, some users report that pricing usually starts at $99 per user, per month.
2. Qandle - It is a cloud-based human resources (HR) software solution that enables businesses of all sizes to manage their employees more effectively. It offers a suite of tools for managing employee data, tracking employee performance and automating HR processes. It is designed to be easy to use and customizable to fit the needs of any business.
Qandle Pricing:
The pricing for Qandle starts at $38.0 per month. Qandle has 3 different plans:
Regular at $38.00 per month.
Plus at $38.00 per month.
Premium at $38.00 per month.
3. Zenefits - Is a comprehensive and user friendly workforce management software solution. It offers a suite of features to help you manage your team including payroll, benefits and compliance. It is designed to be intuitive and easy to use with a clean interface that makes it simple to find what you need. The software includes powerful tools for managing payroll and benefits as well as compliance with regulatory requirements.
Zenefits Pricing:
Essentials at $8 per employee/per month
Growth at $16 per employee/per month
Zen at $21 per employee/per month
4. PeopleBook HR - This software is a cloud-based solution that offers a complete suite of tools for managing your workforce. It includes an employee self-service portal, performance management, time and attendance tracking, benefits administration, and more.
PeopleBook HR Pricing:
Free Version available.
Free Trial available.
Contact PeopleBookHR to request a demo and full pricing quote.
5. Finclock - When it comes to Employee database software Finclock is one of the best solutions on the market. This cloud-based software makes it easy to track employee hours, view attendance records and manage payroll. It also includes features like performance tracking and leave management. On top of it Finclock is affordable and easy to use.
FinClock Pricing:
Price starts from $3/Per month
Pricing Model: Flat Rate
6. Pocket HRMS - Looking for an easy to use, all-in-one employee management solution? Look no further than Pocket HRMS. Our software is designed to make managing your employees a breeze, with features like attendance tracking, payroll management and leave & expense tracking. Plus, our intuitive interface and mobile app make it a snap to keep track of your employees from anywhere.
Pocket HRMS Pricing:
The starting price of Pocket HRMS is ₹ 4995/Up to 100 employees. It has different pricing plans:
Premium : ₹ 4995/Up to 100 employees
Standard : ₹ 1495/Per Month
Professional : ₹ 2495/Per Month
Pocket HRMS also provides a free trial to users.
7. Zoho People - Zoho People is another great option for those looking for an all-in-one employee management solution. With features like performance tracking, time & attendance tracking, and even a social intranet Zoho People has everything you need to manage your team effectively. And like Pocket HRMS, Zoho People also offers a mobile app for on-the-go convenience.
Zoho People Pricing:
Essential HR : ₹60/User Per Month
Professional : ₹120/User Per Month
Premium : ₹180/User Per Month
Enterprise : ₹240/User Per Month
People Plus : ₹450/User Per Month
8. BambooHR - If you're looking for a more comprehensive solution that includes applicant tracking and onboarding in addition to traditional employee management features BambooHR may be the right fit for you. With its user friendly interface and robust feature set BambooHR makes it easy to manage your entire workforce from one central platform.
BambooHR Pricing:
Essentials : Starting at $5.25Per Month
Advantage: Starting at $8.75Per Month
9. Officekithr - Officekithr is an Employee Management Systems that offers a variety of features to help businesses manage their employees. These features include time tracking, leave management, performance tracking, and more.
Officekithr Pricing:
Starting at ₹ 2500/Per Month
Officekithr also provides a free trial to users.
10. Zimyo - Zimyo is an management software solution that offers a comprehensive set of features to help businesses manage their employees effectively. The software includes an employee database, time tracking, leave management, performance management and payroll features. It also offers a mobile app for employees to access their records and information on the go.
Zimyo Pricing:
Basic : ₹60 per user/per month
Standard : ₹120 per user/per month
Enterprise : ₹250 per user/per month
Benefits of using the right employee management software
With the right Employee Management Systems in place you'll be able to:
• Streamline HR processes: Automating HR tasks with human resources (HR) software can save your business time and money by eliminating manual tasks and you can free up your team to focus on more strategic initiatives.
• Improve communication and collaboration: Employee Management Systems can help you improve communication and collaboration between managers and employees. With features like messaging, task tracking, and document sharing you can make sure everyone is on the same page.
• Boost productivity: The right workforce management software can help your business run more efficiently by automating tasks and improving communication, you can help your team work smarter not harder.